Fans Believe The Weeknd Is Calling Out Drake On New Track "Lost In The Fire"
Article By: Ashia Skye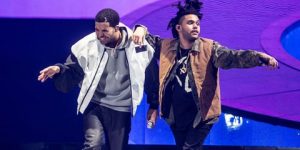 It appears that The Weeknd may have thrown a jab at former collaborator Drake on his new song "Lost in the Fire". On the Gesaffelstein-produced track, The Weeknd sings, "And I just want a baby with the right one/'Cause I would never be the one to hide one."
Normally, a line like that wouldn't mean much on its own. But in this case, fans believe The Weeknd is referencing Drake and his son Adonis. Pusha-T revealed that Drake had a son and had allegedly been hiding him from the public on his diss song "The Story of Adidon."
Since "Lost In The Fire"  dropped, fans  have been chiming in about the Weeknd's potential Drake diss."The Weeknd is the only one that gets a pass when dissing the living legend himself, Drake," one Twitter user tweeted.
Drake and Weeknd allegedly fell out over seven years ago when the Weeknd worked on Drake's Take Care album. It makes sense as to why fans would believe he is talking about the megastar in the new song.
Check out "Lost in the Fire" below. Do you think The Weeknd took a shot at Drake?