Chris Brown Released From French Police Custody With No Charges Filed
Article By: Ashia Skye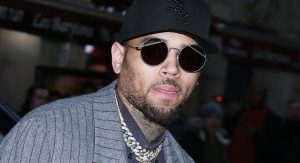 Chris Brown was released from police custody in Paris yesterday following rape allegations from a French woman.
The woman alleges that she met Brown at a Paris night club earlier this month. She claims that her, Brown and his friends went to his hotel, and that the assault took place there on the 14th.
A source close to Brown told TMZ that Chris was never alone with the woman and that his girlfriend, Ammika Harris, was in the room, along with 20 other people. The source claims they were all in the room "hanging out" and listening Breezy's new music.
After being released from custody, the singer went on his Instagram to deny all allegations.
He posted a photo of the words "This Bitch Is Lyin!". "I WANNA MAKE IT PERFECTLY CLEAR…… THIS IS FALSE AND A WHOLE LOT OF CAP! NNNNNNNNEEEEEEEEEEVVVVVVVVVVEEEEEERRRRRR!!!!!! FOR MY DAUGHTER AND MY FAMILY THIS IS SO DISPRESPECTFUL[sic] AND IS AGAINST MY CHARACTER AND MORALS!!!!!" he captioned the image.