Young Thug Calls Out YFN Lucci On Instagram Live
Article By: Ashia Skye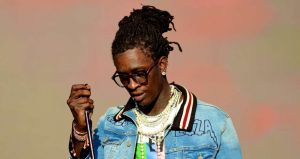 Young Thug had some choice words for fellow Atlanta rapper YFN Lucci when asked about him on Instagram Live last night. Midway through the session, Thug stated he has no problem slapping YFN Lucci, and Houston rapper Sauce Walka.
"Man, of course I'm gon' slap Lucci and Sauce," Young Thug said. "I'ma slap the hell out y'all little niggas man. Stop playin'. Keep playin' and know what time it is."
Lucci  of course had some choice words for thugger in return.
"Aye man, stop tagging me in that pussy ass shit. He ain't gon slap nobody," said Lucci also tagging Thugger's girlfriend Jerrika Karlae in the Instagram story. "Your husband ain't nun," he wrote.
https://www.instagram.com/p/BvT2wTEgaW-/?utm_source=ig_web_copy_link