Young M.A. Addresses Kodak Black For Repeatedly Shooting His Shot
Article By: Ashia Skye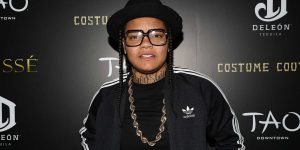 Young M.A has been very open about her sexual orientation as a lesbian,  but that has not stopped Kodak Black from shooting his shot. He has been very public about his interest in her, and she seems to be bothered by it.
Last month, Kodak commented "Both Of Y'all a Get It" on an Instagram photo of  M.A. and Nicki Minaj. Then, he dropped a track called "Pimpin Ain't Eazy" featuring multiple references to Young M.A.
On the song's second verse, he raps, "I'm fucking Young M.A, long as she got a coochie/Say she got the strap and the toolie
During a recent Instagram Live session, Young M.A addressed Kodak's lewd comments about her.
"Y'all keep talking about this Kodak situation, bro," she said. "Y'all niggas is weird, bro … Obviously, the nigga is weird, bro. Obviously, he on some shit, bro … Y'all do this internet shit too much."