Tory Lanez Previews Music From Upcoming Mixtape "Chixtape 5"
Article By: Ashia Skye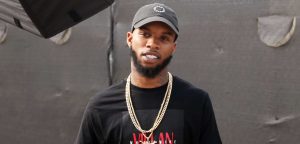 Tory Lanez is is just about ready to drop the fifth edition of his Chixtape series, and he decided to let fans hear a sample on Instagram Live this weekend.
In traditional Chixtape fashion, Tory is remixing his favorite classic R&B and rap songs from the 90's and 2000's. The Toronto native previewed samples like Trey Songz's "Can't Help But Wait," Fabolous' "Trade It All" and T-pain's, "I'm Sprung."
Pain and Tory linked up in the studio recently for Tory to play him the track, which coincidentally happened to be on the anniversary of the release of Pain's debut Rappa Ternt Sanga, at the same studio where he recorded the album in 2005.
Check out the preview of Chixtape 5 below. Will Tory knock it out the park yet again?