The Game Feuds With Joe Budden Over Joe's Fiancee Cyn Santana
Article By: Ashia Skye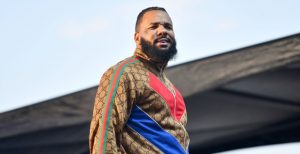 The Game has had a lot to say about Joe Budden and his fiancee Cyn Santana recently. On Sunday night, Game claimed that Joe is threatening to sue him over a song where Game mentions his previous sexual encounters with Cyn Santana. He also claims to have discovered Santana.
"@joebudden you can't sue nobody for discovering the pussy before you #ChristopherColumbusHeadAssNigga #IndiansWasThere1st," Game wrote. "I turned you into an on-air personality nigga! Enjoy retirement pussy! (Quavo voice)"
Joe Budden also had a lot to say on the matter on his podcast.
"The more I sat and thought about this, the more I said to myself, 'Nigga, so what?' What type of loser, face-ass nigga is you, nigga?" he vented. "I don't give two fucks about what anyone did before I was involved with them. To me, that's more loser shit."
Check out The Game's latest post below.
https://www.instagram.com/p/Btdk00ehS9Y/?utm_source=ig_web_copy_link