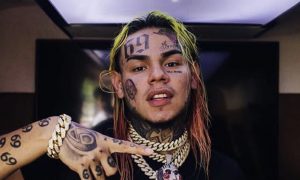 Explore the life and crimes of the infamous Brooklyn rapper Tekashi 6ix9ine in a new three-part documentary series called
SuperVillian. 
According to Showtime, the series was inspired by a 2019
Rolling Stone
feature "Tekashi 6ix9ine: The Rise and Fall of a Hip-Hop Supervillain." For those who care; Showtime wants to take us down a path to explain the journey of how Daniel Hernandez became Tekashi 6ix9ine.  It will also detail how 6ix9ine became so successful in such a short period of time. The show will also delve into the moves Tekashi made which lead to him trying to become a successful rapper ultimately landed him in prison. Tekashi is currently in federal custody awaiting sentencing after testifying against his former fellow gang members. The new series was announced shortly after the announcement of Snapchat's 6ix9ine documentary series produced by 50 Cent. News about 50 Cent's "Tekashi69 VS The World" documentary series surfaced just last month.