Tekashi 6ix9ine's Girlfriend Claims She Suffered Physical Abuse During Their Relationship
Article By: Ashia Skye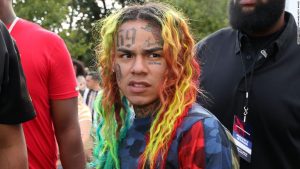 While Tekashi 6ix9ine is currently incarcerated, some new allegations about him have surfaced. His ex-girlfriend and baby's mother alleges that she suffered physical abuse throughout their seven-year relationship. She claims the rapper physically abused her, as well as their three-year-old daughter Saraiyah.
"He started to punch me again," she began to describe. "He started beating me for two hours straight. He had the craziest look in his eyes. I was scared. 'Why is he acting this way?' I had never seen him like that. He punched me so hard in my right ear I thought I was deaf. My face was so swollen. It was so bad. I could barely open my eyes."
Molina also described a trip to Dubai in 2018 where she alleges that Tekashi beat her several times at their hotel. He allegedly punched her in the head until she bled on the pillows inside of  their hotel room. Next, she claims he accused her of sleeping with his manager Shotti, and then beat her "for two hours straight."
"He put his arm around my neck and started choking me," she recalled. "He said, 'I just have to make an example. I can't have you out there, making me look stupid.'"
Read the full account of Molina's story  here.