Soulja Boy Condemns Kanye West During Interview With The Breakfast Club
Article: Ashia Syke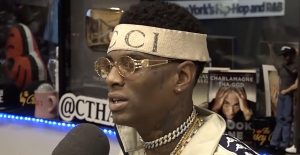 Soulja Boy's recent interview with The Breakfast Club has gone viral. He touched on a vast variety of subjects, including Tyga, Drake, and 6ix9ine. Soulja also had some words for rapper Kanye West. He insisted that he's more innovative than Kanye, and he condemns him for crying about Drake, but still supporting President Donald Trump.
"You up here supporting Trump, bruh? What the fuck wrong with you, bruh? You need to stop supporting Trump, bruh. You cryin' on Twitter every week about Drake," said Soulja . "Stop that shit, bruh. You look lame, bruh. You look cap, bruh. And real street niggas and young kids like me…are looking at you goofy, bruh."
"Kanye came on [The Breakfast Club] talking about I'm Walt Disney. Nigga, you ain't none of that. Then why you didn't came out with shit then? I came out with a whole video game console. I'm the first rapper to do that in history. You ain't Walt Disney, you ain't none of that."
"You kiss them folks' ass at Louis Vuitton. You kiss them folks' ass at Adidas and you came out with two pair of goofy tennis shoes," he continued. "And that ain't enough, bruh. I'm younger than you [and] I'm flyer than you."
Check out Soulja Boy's words for Kanye West on The Breakfast Club below.