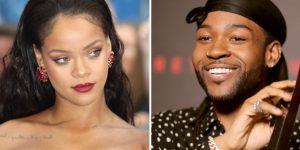 Rihanna appears on new PartyNextDoor
song "Believe It." The song is off of PartyNextDoor's new album 
PARTYMOBILE.
"Believe It" marks Rihanna's first new music since 2017 when she appeared on N.E.R.D's "Lemon" and Kendrick Lamar's "Loyalty." PartyNextDoor has previously worked with Rihanna, co-writing 
Anti
 songs "Work" and "Sex With Me."
PARTYMOBILE is the artist's first album since 2016 and his follow-up to PARTYNEXTDOOR 3. The project includes the Drake and Bad Bunny collaboration "Loyal" and "Split Decision."Take a listen to the new track 'Believe It' at the link: here.