Rihanna Sues Her Father For Using "Fenty" Name To Brand His New Business
Article By: Ashia Skye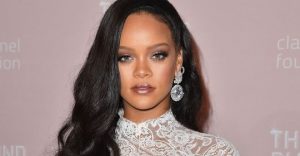 Even though Rihanna has a seemingly good relationship with her father, Ronald Fenty, she is currently suing him for using the Fenty name to brand his new business venture.
Rihanna apparently took issue with her father naming his new business "Fenty Entertainment". Documents obtained by TMZ reveal that Rihanna sent cease-and-desist letters to her father before filing the lawsuit. She also claimed her father was attempting to profit off her by using the name she already branded. She is reportedly asking for damages from her father and an injunction on his business that was set up in 2017.
Even though Riri is pursuing legal action against her pops, they still seem to be keeping in contact.  They were together in November celebrating Rihanna's grandfather's 90th birthday in Barbados.