Rihanna Reveals She Protested The Super Bowl In Honor Of Colin Kaepernick
Article By: Ashia Skye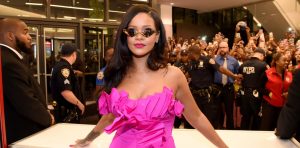 It appears Rihanna was among the countless people who boycotted watching the Super Bowl this weekend in support
of Colin Kaepernick. Yesterday, Ri took to Instagram to let fans know that she is down with Kaep, and not in favor of the NFL's actions. "For those of you who thought I was watching the Super Bowl… we beefin'," she wrote.
Colin of course replied with appreciation. "I really appreciate @badgalriri keepin it 💯✊🏾," he wrote.
As it turns out, Rihanna's also turned down this year's halftime performance for the game, in support for Kaep. "They offered it to her, but she said no because of the kneeling controversy. She doesn't agree with the NFL's stance," a close source revealed a few months ago.