Rich The Kid Drops Visual For New Single "Splashin"
Article By: Ashia Skye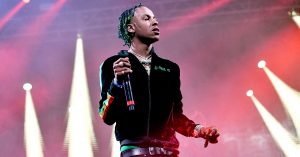 Rich The Kid is back with another creative visual. This time it's for his new single, "Splashin."In video, Rich hits up the lab to give some young ladies his magic potion. While in the lab, Rich spits his bars over the hard-hitting beat. "How I got two-fifty from my neck up?/How I made it from the hood to a Bent truck? Bitches wanna fuck, I got them lined up/How you with the gang but you ain't signed up?"
Check out Rich The Kid's "Splashin" video below.