Remy Ma & Safaree Sued For Breach Of Contract By Chicago Organization
Article By: Ashia Skye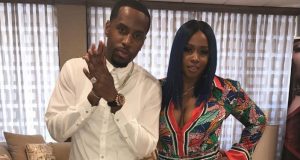 Remy Ma and Safaree are being sued by The Circle Foundation for a breach of contract from a benefit concert the two were scheduled to perform at. The Foundation, who mentors Chicago youth, alleges the artists signed on to perform at the fundraising show on April 21 at the Wintrust Arena.
The Foundation alleges that their contracts explicitly state the Love & Hip Hop stars are unable to perform within 60 miles of the venue for 30 days prior to the concert. This practice is called a "performance exclusivity" clause. The purpose of the procedure is to ensure the concert remains exclusive or in high demand.
The claim alleges that the rappers agreed to the terms, with Remy receiving $35,000 and Safaree getting $7,000 for deposits. The issue arose when they both performed at other venues within the 30 days, causing the foundation to cancel the concert. The foundation now wants their deposit money back and is suing Remy and Safaree to get it.