Ciara And Russell Wilson Surprise Students With Gifts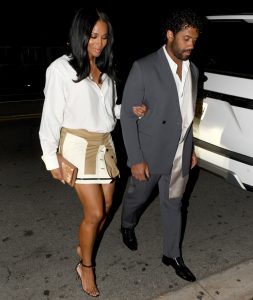 Ciara, and her husband Russell Wilson, stopped by their Why Not You Academy in Des Moines, Washington to surprise the students with Christmas gifts.
The surprise was part of their way of celebrating the inaugural semester of the academy. They also unveiled the school mascot, a lion, which the kids were able to vote to create. Gift packs included a Dare to Roam antimicrobial backpack filled with gifts including a Starbucks gift card, a Human Nation beanie, a Human Nation/House of LRC T-shirt, a 3BRAND Why Not You Scarf, and a Spin Master's Aerobie Sonic Fin Football.
Formerly named Cascade Midway Academy, the school's name was changed to Why Not You Academy, in honor of the $1.75M donation made by the couple through Wilson's Why Not You Foundation. The donation, made last October, saved the school so they could stay open.