Quavo & J. Cole Help Out With NBA All-Star Dunk Contest
Article By: Ashia Skye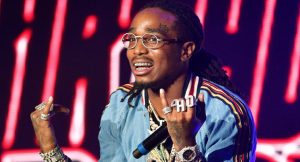 NBA All-Star Weekend In Charlotte, NC has been quite eventful these past few days. One of the highlights of the weekend was of course the slam dunk contest. On Saturday Quavo and J. Cole decided to help out with the popular competition.
New York Knicks guard Dennis Smith wore J. Cole's high school basketball jersey and jumped over the M.C.  while he was seated in a chair near the basket. Next, Cole also attempted to dunk himself but could not cut it.
Lastly, Oklahoma City Thunder guard Hamidou Diall brought out Quavo for his dunk. Instead of Diallo jumped over Quavo and delivered a powerful dunk, winning the contest..
Check out J. Cole's and Quavo's assist withthe dunk contest below.