Police Show Up To R. Kelly's Birthday Party In Chicago
Article By: Ashia Skye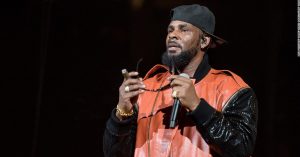 Amongst a myriad of professional and legal problems, R. Kelly still decided to hit the club and celebrate his 52nd birthday in Chicago.
On Wednesday, Kelly popped up at club V75 despite the recent airing of Lifetime's Surviving R. Kelly docuseries that was filled with abuse allegations him. Surprisingly the club was full of people who were happy to party with the R&B singer. "I don't give a fuck about what's going on!" he exclaimed to the crowd
Soon after the party began, cops showed up looking for Kelly. Allegedly, a police dispatcher put a call out to Chicago PD units telling them where to locate Kelly and noting there was a warrant out for his arrest, according to reports from TMZ. Shortly after learning there wasn't a warrant after all, and allowed him to carry on.