Offset Walks The Runway At Off-White Fashion Show In Paris
Article By: Ashia Skye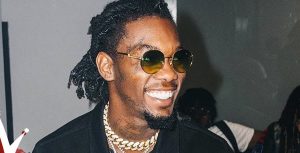 Migos member Offset is often taking fashion risks, so it's only right that he venture even further into the fashion world. Recently Set flew to Paris to walk in Virgil Abloh's Off-White fall 2019 fashion show.
The Atlanta rapper walked the runway dressed in a lilac, full-length puffer coat with a built-in fanny pack, along with baggy trousers and green sneakers. He also accentuated his fit with his signature icy necklaces.
The show, entitled "Public Television," featured sportswear: puffer coats, insulated overalls, jumpsuits and helmets.
Offset posted a photo from the show captioned, "Love this Off-White coat, I can hide all my weed in it."
https://www.instagram.com/p/BsuBIcGlrXe/?utm_source=ig_web_copy_link