Offset Drops Official First Single From His Upcoming Solo Album
Article By: Ashia Skye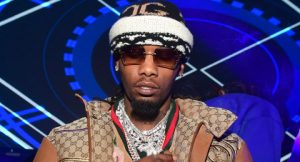 Offset's debut solo album is right around the corner, and he's continuing to tbuild the buzz for it.  He just dropped his first solo record entitled "Red Room," to serve as the first single from the upcoming project.
"I'm a maniac go crazy for the cash (Hey, crazy)/Green Lamborghini, paper tags (Skrrt)/Ridin' through the city, 30 mags (Brrt, bow)/Niggas snitchin', they the police with no badge (Woo, woo, woo)/How I grew up, my momma was my dad (Momma, huh)/So when I blew up I put her in a pad (Mansion)" Offset delivers.
Check out the video for Offset's song "Red Room" below.