Nipsey Hussle Celebrates "Victory Lap" Grammy Nomination With Jay-Z & More
Article By: Ashia Skye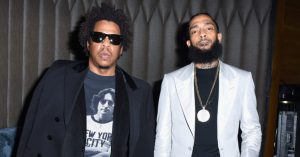 This Wednesday (January 16th) rapper Nipsey Hussle celebrated his Grammy nomination for his acclaimed album Victory Lap, at The Peppermint Club in Los Angeles, CA.
Puma Brand sponsored the soiree, which included drinks sponsored by CÎROC and DeLeón Tequila. Tons of industry greats showed up to the event, including JAY-Z, Snoop Dogg, T.I, Dave Chappelle, DJ Mustard and Tiffany Haddish and more.
Well into the event, Nipsey took the stage to address his esteemed guests.
"All the musicians and writers and producers, everybody that's in the building, we here to celebrate yall as well as the music and the album so thank everybody that was apart of the album. Thank all the family members, all the girlfriends that dealt with us in the studio late night. 12, 20 hour studio nights, everybody that just believed in the process. Like I said we put a lot into it." he explained.
The 61st GRAMMY awards will be held on February 10th in Los Angeles. Congrats Nipsey!