Nipsey Hussle Believes Tekashi 6ix9ine Was Bound To Self-Destruct
Article By: Ashia Skye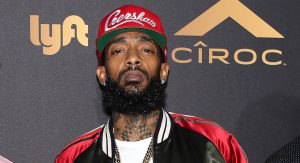 With rappers like Tekashi 6ix9ine being known for trolling, Nipsey Hussle believes that the public should have just ignored the outrageous behavior all together, since it was bound to lead to destruction regardless.
In an interview with Los Angeles' Real 92.3 program Big Boy TV  Nipsey spoke on 6ix9ine's downfall after host Big Boy brought up how the public expected rappers to respond to Tekashi's disrespect.
"The public should not even react to clown shit," Nipsey said to Big Boy, who had noted the way Tekashi's targets knew to ignore him. "The public should follow the real niggas, if the real niggas ain't reacting so y'all don't react. Put the dude on goofy time and just let him sit over here doing what he doing till that shit expire, cause it always gonna self-destruct, clearly."
Check out what Nipsey Hussle said about 6ix9ine below.
"You gotta demand more from the public…" @NipseyHussle thoughts on Tekashi #BigBoy pic.twitter.com/9JQMiEnuVi

— REAL 92.3 LA (@Real923LA) March 11, 2019