Nicki Minaj Will Be The First Female Rapper To Sell 100,000,000 Units
Article By: Ashia Skye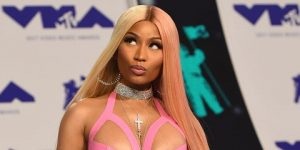 Nicki Minaj continues to rack up accolades and career milestones. Her latest major win comes in the form of record sales. Nicki is on track to become the frst female rapper ever to sell 100,000,000 units.
According to RIAA Chart Data, Nicki has sold 99 million units including albums, singles and features certified by the Recording Industry Association of America. As it stands now, she is only 1 million away from touching 100 million units sold.
Check out Chart Data's tweet about Nicki's potentially massive accomplishment below.
.@NICKIMINAJ now has 99 million RIAA certified units across albums, singles and features. She's expected to be the first female rapper to hit 100 million units.

— chart data (@chartdata) January 2, 2019