Nicki Minaj Confirms Her 5th Album Is Done & Drops 2 New Freestyles
Article By: Ashia Skye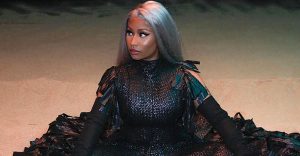 Nicki Minaj is back in action. Last week she released a visual for her song "Hard White", as well as two new freestyles. She is now confirming that the new releases are in preparation for her fifth album, which is finally finished.
The superstar made the announcement on the latest episode of Queen Radio this Saturday night on her frestyle over Meek Mill and Drake's "Going Bad."  "The label hit me said they want the fifth thing-thing. I got in the studio, I did the fifth thing-thing. And then they say, 'You know, it's time to drop your single.' I said 'Noooo.' You know radio already tried to blackball a bitch.'"
Check out the new freestyles below.