Nicki Minaj Apologizes For Having To Postpone Show Hours Before It Started
Article By: Ashia Skye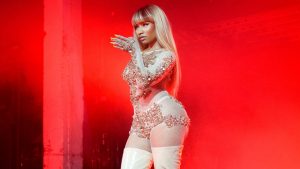 Nicki Minaj has just embarked on her European tour with Juice Wrld , but she has already hit a bump in the road. The rappers had to postpone the second show due to technical issues.
 The show in question was set to take place in Bratislava, Slovakia but had to be postponed because of electrical issues at the venue. The site could not support the huge technical portions that are incorporated into her show.
Nicki took to Instagram to apologize and let her fans know what was happening.
"We've been trying for hours to get the show to work, and the building says they don't have the power in this building to make this show work," she told the crowd. "I feel horrible because you guys have been here for hours, and they've been trying everything they possibly can…Gutted. Heart broken," she said. "I can't believe my fans sometimes. After waiting for hours & hours, they still tried to be understanding. Production was told the building does not have the power to facilitate my lifts (which don't only move me below & very VERY high above the stage, but also move all our props, furniture, dancers, band, etc.), our lighting rig, fog, cryo, confetti, movies/visuals."
She continued to speak glowingly of her die-hard supporters who made the trip. "Some of my fans came from Austria, Nigeria, etc. I met w/a lot of them & they had the best, sweetest energy," she added. "I'm so disappointed. Slovakia, I love you so much & I'll do everything in my power to get back to you as soon as I can… Sorry we couldn't have a great night together. We'll be in Poland on Sunday @ a building that can facilitate our show. ♥️🙏🏽."