Meek Mill Brings Out Lil Uzi Vert To Perform On Motivation Tour
Article By: Ashia Skye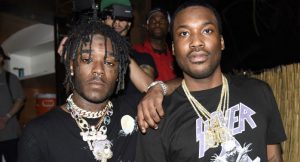 Meek Mill made his mark in New York City for the latest stop on The Motivation Tour, and he brought along a very special guest.
A few nights ago, the Philly rapper brought his headlining concert featuring opening acts Melii, Kash Doll and Lil Durk to the Hammerstein Ballroom. After bringing out Fabolous to perform "Uptown Vibes" from the Championships album, Meek then surprised the fans  by having Uzi  grace the stage.
The semi- retired rapper performed his hit song "XO Tour Lif3." He also performed other songs like "New Patek." Uzi was one of  many guests that Meek brought including Dave East and Yo Gotti.