Meek Mill & Bobby Shmurda Discuss Meek's Criminal Justice Reform Efforts
Article By: Ashia Skye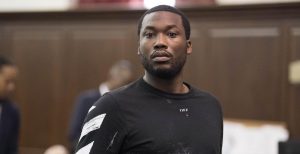 According to Meek Mill, Bobby Shmurda has the wrong idea about Meek's prison reform efforts.
During a recent interview with the currently-incarcerated Shmurda, the rapper said he wouldn't be joining Meek's efforts upon his release. "I tell people all the time I respect what he's doing but I can't do it though, you understand?" Shmurda told Sirius XM's Swaggy Sie. "I can talk to the kids, but I'm ain't about to be sitting here protesting and politicking for no muthafuckin' cops because them muthafuckas don't care."
Meek shared his thoughts on the matter in an Instagram comment.
"Somebody gave Bobby the wrong information," Meek wrote on Tuesday (March 26). "Nothing I got going on has nothing to do with speaking up for the cops!"