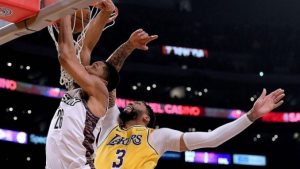 After superstar Kevin Durant and three other members of the Brooklyn Nets 
tested positive for the coronavirus
yesterday, players on the Los Angeles Lakers were tested for the virus earlier today. The players will also undergo a 14-day self-quarantine. The tests were administered entirely within the players' cars. Only players were tested, not coaches or training staff, and the test involved placing a cotton swab in their noses in order to secure a culture. Results have not yet come in. The Lakers were the last team to play the Nets before the season was indefinitely suspended, as Brooklyn bested Los Angeles 104-102 last Tuesday night. The Lakers released the following statement on Tuesday:
Today we were made aware that four players on the Brooklyn Nets have tested positive for COVID-19.We have been in immediate contact with our players and basketball operations staff members since being made aware of this development. Given the exposure risks from our game against the Nets on March 10th, we are following the next steps of our COVID-19 procedures and protocol that are established in consultation with various health officials, the NBA and our UCLA Health doctors. The health and well-being of our players, staff, fans, and society in general, is of paramount importance to us, and will continue to be our focus.We appreciate the support of our fans, family and friends, and wish everyone affected by this virus a speedy and healthy recovery.
There are now seven NBA players that have tested positive for the COVID-19 virus. Rudy Gobert was the first, followed by his Utah Jazz teammate Donovan Mitchell and Detroit Pistons forward Christian Wood. Because of Gobert's positive test and due to concerns over the global outbreak, the NBA suspended the 2019-20 season last week. The league remains hopeful of resuming operations in mid-to-late June. Since his positive diagnosis, Gobert has 
publicly apologized
 for not taking the situation seriously enough and in turn putting others at risk.