Justine Skye Alleges Rapper Sheck Wes Physically Abused Her & Attacked Her Friends
Article By: Ashia Skye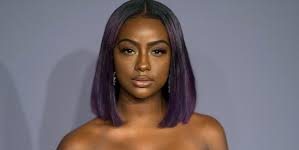 After recently coming out about suffering from domestic abuse, singer Justine Skye took to Twitter to name her accuser. Skye named rapper Sheck Wes as the one who physically abused her during their relationship.  She posted two tweets condemning him for the physical abuse and fir allegedly having his entourage attack her friends.
"Taking a walk with my friends and my man and Sheck Wes (my abuser) and his friends decide to STALK US and attack my friends," Skye wrote in one tweet. "[Two] cars full of niggas while he sat in the car like a bitch. You're pathetic sheck and you beat women. You hit your girl before me and you'll do it again."
check out Justine Skye's tweets below.
Taking a walk with my friends and my man and Sheck Wes (my abuser) and his friends decide to STALK US and attack my friends.. two cars full of niggas while he sat in the car like a bitch. You're pathetic sheck and you beat women. You hit your girl before me and you'll do it again

— Justine Skye (@JustineSkye) February 12, 2019
You're pathetic… and all the people defending you, ya whole bitch ass label.. everyone. You spreading lies about me. Moral of the story is, if you never put your hands on me.. you wouldn't be in this situation and you just keep making it worse.

— Justine Skye (@JustineSkye) February 12, 2019