Jay-Z Hires Lawyer To Represent 21 Savage In Immigration Case
Article By: Ashia Skye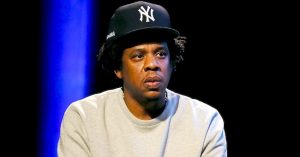 Jay-Z has decided to help with 21 Savage's battle against Immigration and Customs Enforcement (ICE). Jay took it upon himself to hire a lawyer to work on Savage's case. He also released a statement about the ordeal.
"In addition to being a successful recording artist, Savage deserves to be reunited with his children immediately," said Jay-Z. He also called the arrest "an absolute travesty."
Alex Spiro (the attorney Jay hired) also released a statement.
"We are not going to stop until he is released, bonded out or in front of a judge," he told TMZ. "What we have here is someone who overstayed their Visa with an application pending for four years—not a convicted criminal that needs to be detained and removed but, by all accounts a wonderful person, father, and entertainer who has a marijuana offense which was vacated and sealed."
She'yaa Bin Abraham-Joseph (@21savage) is currently 26 years old, an engaged father of 3 children who were born in the U.S. U.K. born Abraham-Joseph has been living in the U.S. since the age of 7. pic.twitter.com/T2sfILYEF3

— Team Roc (@teamroc) February 6, 2019