Jacquees Says DJ Mustard Pulled A "Hater Move" By Removing His Trip Remix
Article By: Ashia Skye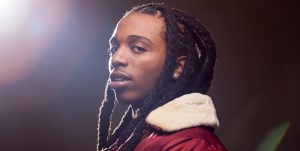 It looks like Jacquees is still feeling a way towards DJ Mustard after the producer had his remix of Ella Mai's "Trip" removed from all online platforms last year.
During an interview on Big Boy's Neighborhood, Jacquees labeled the move a "hating move."
"Really DJ Mustard hated on me. No cap. That was crazy," said Jacquees. "Shout out to YG. YG my partner and I want to work with DJ Mustard too, but that was a hating move. Because it was crazy." he added.
"It was going too, huh?" replied Big Boy.
"Yeah and I thought it was just dope because I been making remixes for a long time. And Ella Mai—we had just became friends! I had just met her backstage at this CB concert. We had another show together, she was supposed to come to my after-party. We were just linking up, and I did 'Trip.' I DM'd Ella Mai and was like, 'I'm finna redo 'Trip'. This hard!' And I dropped 'Trip' and Ella Mai commented on it. She put all the fire on it like, 'This hard!' She ain't say 'this hard' but she just put all the fire under it. So we like damn, we going up!"
https://www.instagram.com/p/BvcKSzJBOnN/?utm_source=ig_web_copy_link