J. Cole Shares His Thoughts On Being Excluded From The Grammys
Article Byy: Ashia Skye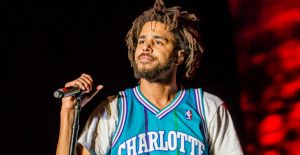 J. Cole took a moment to share some encouraging words with his fellow artists after the Grammy Awards this past Sunday. When Cole saw some fans tearing down some of the winners on his behalf, he decided to chime in.
"I don't never wanna be propped up by tearing somebody else down." "Seeing Cardi b win a Grammy make me feel like I won. Same with jay rock and Anderson. I feel for Travis cuz he really deserved that acknowledgement as well, but his moment is way bigger than the awards could say."
"I went through a lot of heart break the first half of my career, maybe even longer, cuz deep down I needed that validation that I thought the awards could bring," he tweeted.
Finally Cole posted a quote that summed up his feelings on the matter. "My heart is at ease knowing that what was meant for me will never miss me, and that what misses me was never meant for me."