J. Cole Announces Dreamville Compilation Album "Revenge Of The Dreamers III"
Article By: Ashia Skye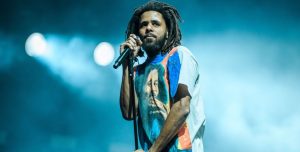 J. Cole is getting the band back together for his record label, Dreamville Records, compilation album Revenge of the Dreamers III.
Last night, the North Carolina MC an invitation to the recording sessions for Revenge of the Dreamers III. The sessions kick off in Atlanta, GA, and will last from Jan. 6 to Jan. 16. So far, a release date for the project has yet to be announced.
Once Cole broke the news by posting his invite, other Dreamville artists and affiliates began also posted their personal invitiations. Artists like Air Lennox, Bas, Cozz, Earth Gang, Omen, Lute West and J.I.D. will take part in the album. Along with special afiliated guests like Reason of TDE, K-Camp and Rapper Big Pooh.
Check out J. Cole's announcement and cool invitation for Revenge of the Dreamers III sessions below.
Bet. On the way. pic.twitter.com/gbqDdVbTp0

— J. Cole (@JColeNC) January 7, 2019