Interviewer Asks Cardi B Whether Or Not She Would Work With Nicki Minaj
Article By: Ashia Skye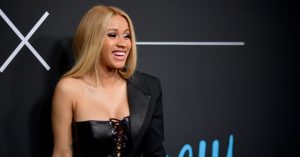 During a recent interview, things got pretty awkward with Cardi B when an interviewer asked her about potentially making up with Nicki Minaj.
"Is there ever a chance that you and Nicki would make up and perform together?" asked the interviewer
Some intense seconds of awkward silence followed. Cardi then proceeded to erupt in laughter for about 15 seconds without answering the question before the interview ended.