Gucci Mane Enlists Actor Jonah Hill To Shoot His New Video
Article By: Ashia Skye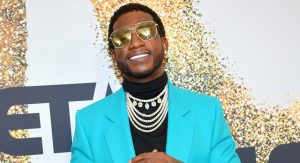 It appears that Gucci Mane and actor Jonah Hill are working on a new collaboration.
This weekend, Jonah took to Instagram to share a text conversation between himself and Big Guwop, revealing that they will be working on a music video together.
"Waddup Vato," Gucci texts. "It's Guwop."
"Wowwwww been waiting for this text all my life. We gonna make a classic or what?" replies Jonah.
 "This video should be interesting. @laflare1017 🔥 got the @vampireweekend and @steve.lacy video coming next couple weeks. Music videos were my favorite growing up and I feel grateful I get to direct them with some of my favorite artists. Let's go!"
Check out Gucci Mane and Jonah Hill's text exchange below.