Future Reveals Title Of Upcoming Album & Drops New Video For "Jumpin On A Jet"
Article By: Ashia Skye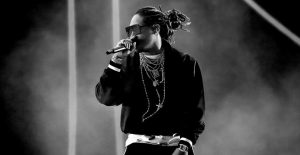 Future is starting off 2019 strong, with no plan of slowing up. The Atlanta MC has announced his forthcoming album The Wizrd, and dropped yet another new track to coincide with the announcement.
On Instagram, Hendrix shared the cover art and title for the new LP, which is named after his Documentary, The Wizrd, on Apple Music. The two-tone art shows Future walking through a forest with looking down as his dreads cover his face.
After revealing the cover art and album title,  Future also used the moment to drop his new track "Jumpin' on a Jet." Presumably, "Jumpin on a Jet" will appear on the forthcoming project.
The Wizrd drops January 18th. Check out the official album cover and the video below.
https://www.instagram.com/p/BsZTSjNAY9h/?utm_source=ig_web_copy_link