Article By: Ashia Skye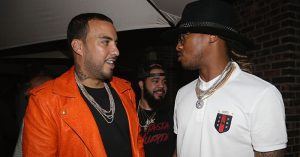 Future is starting 2019 off with a bang. The Atlanta MC decided to  start the year off by releasing a new track called "NASA" featuring French Montana. He revealed the new collaboration this Monday (December 31st). The track has a spacey sound and feel, with some added flexing of course.
"Medusa mink rugs I'm the plug with the juice, baby/Heating up the pool and it's winter time, love baby," he raps. "Really big big, 10 carats no fugazi/Sitting court-side, bet a 100 on LeBron, baby/I been doing numbers in the jungle with them savages/I'ma put in work until that time and leave my legacy/I been making moves, you can't infiltrate my embassy."
Right after Future comes French, delivering some melodic bars.
"Hope when it hits the fan you gon' lie for me/Hope every time you see me win you gon' smile for me/I'll buy the whole dealer if you run a mile for me/Crocodile bags never turn your tears crocodile for me," rhymes.
Check out "NASA" featuring French Montana below.