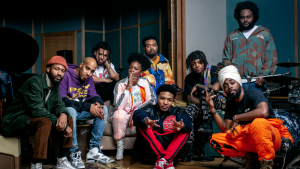 Dreamville's album 
Revenge of the Dreamers III
 was just nominated for a Grammy in the "Best Rap Album" category.
Revenge of the Dreamers III, 
the project led by J. Cole and featuring songs by all artists on their roster, debuted at the number 1 spot of Billboard 200, moving 115k copies in just it's first week.  In July, the co-founder of the label,  Ibrahim "
Ib
" Hamad told fans via Instagram that a deluxe version of the LP featuring new cuts would be released.   After not hearing any updates about the deluxe version, Ib assured fans that the album is still on the way. "That Revenge Deluxe still coming too. Don't think we forgot," Ib wrote on Twitter.