Drake & Tory Lanez Are Hitting The Road For "Assassination Vacation" European Tour
Article By: Ashia Skye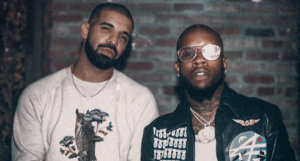 Even though Drake just finished with a major tour, he's about to jump right back on the road. For run, he's bringing out former rival, Tory Lanez. This morning, Drizzy took to Instagram to reveal the joint Assassination Vacation Tour.
"ASSASSINATION VACATION," he wrote. "UK and EU tour tickets on Friday!!! Me and @torylanez w/opening sound set by @tiffanycalver."
The tour kicks off in England at the Manchester Arena on March 10th, and finishes up on April 26 in Amsterdam.
"The city needs more of this and less of that," Drake wrote underneath a photo of he and Lanez. Tory also shared the photo, captioning it "Toronto… I Told You."
Check out the tour dates below.
https://www.instagram.com/p/Bs7kzw5g-J8/?utm_source=ig_web_copy_link