City Girls Release Long-Anticipated "Twerk" Video Featuring Cardi B
Article By: Ashia Skye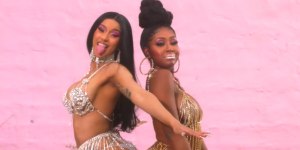 The City Girls have finally released their long-anticipated visual for their uptempo twerk anthem,  "Twerk", featuring Cardi B.
In the new video, Yung Miami and Cardi B are covered in zebra and tiger print body paint, respectively. The rappers have a fun time on a beach, on a yacht, on a construction site twerking with a bunch of other young ladies.
Most of the women in the video won a social media contest where the City Girls serched for the best twerkers in the world. Check them out in action below.