Chance The Rapper Calls Out His Friends Who Have Been Accused Of Sexual Assault
Article By: Ashia Skye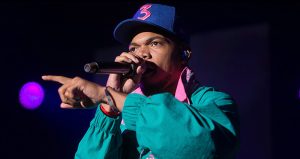 In the wake of  the Surviving R. Kelly docuseries that recently aired on Lifetime, many discussions about assault and sexual abuse have began to take place. Recently Chance The Rapper decided to chime in on the discussion, and address some friends of his whom he recently found out have been accused of sexual assault.
"In the past 2 days I've heard too many stories of domestic abuse, sexual violence and rape perpetrated by ppl I called friends," Chano wrote. "I am ashamed of yall. These stories will be amplified and your victims will receive the justice they deserve.
The first allegation was directed at his friend Towkio.  A woman named Morgan wrote, "February 2016, I was raped by Preston Oshita aka Towkio." on her twitter account.
Next, she accused Chance's drummer Stix of sexual misconduct."He pushed me in a room, closed the door, turned off the light & put his hands down my pants," she wrote in a tweet. "I rejected his sexual advances and immediately left the room."
See Chance's tweet addressing the allegations below.
In the past 2 days I've heard too many stories of domestic abuse, sexual violence and rape perpetrated by ppl I called friends. I am ashamed of yall. These stories will be amplified and your victims will receive the justice they deserve.

— Chance The Rapper (@chancetherapper) January 9, 2019