Casanova Confronts Soulja Boy For Yelling At Woman During Interview At Sirus XM
Article By: Ashia Skye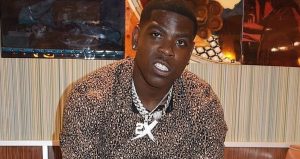 On Thursday (January 17th), Soulja Boy was on his latest press run, which led him to Sirius XM in New York. While at the station, Soulja ran into rapper Casanova, who had some choice words about his behavior. Cas let Soulja know he had a problem with the way he allegedly yelled at a woman at the radio station. He promptly warned Soulja not to disrespect women no matter what's going on.
"You screamed at a lady. You bugging the fuck out, homie," Casanova told Soulja. "You got shit all over your face. Are you bugging out? You high? You smacked? You don't see how she ran out?"
Soulja Boy responded by defending his outrage.
"You don't understand how they treat me, bro. If they females, they need to talk like females. Why she talkin' like she gangsta?
Check out Casanova confronting Soulja Boy below.
https://www.instagram.com/p/BswgkkYBuYm/?utm_source=ig_web_copy_link