Cardi B Joins Blueface For "Thotiana (Remix)"
Article By: Ashia Skye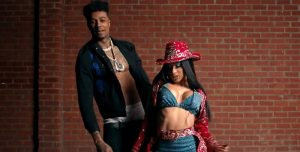 Blueface has just added another layer of heat to his breakout hit "Thotiana." For the remix of the single, Face decided to call on Cardi B.
"Fuck clappin' back, bitch, I'm clappin' on the dick (On the dick)/Bust it, bust it, I'm a savage (I'm a savage)/Bitch throw it back like a 10-Year Challenge (Woo)," she raps. "Take him to the crib, then I push him on the sofa (Sofa)/Have his breath smellin' like pussy and mimosa (Ah, ah, ah)/Uh, we ain't finished, tell 'em beat 'em up (Beat it up)/And if the pussy stop breathin', give it CPR (CPR)." Cardi spits.
Check out Blueface's "Thotiana (Remix)" video featuring Cardi B below.