Cardi B Calls Out Donald Trump Over Government Shutdown
Article By: Ashia Skye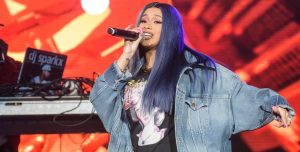 Cardi B has some choice words for President Donald Trump.
Cardi hopped on Instagram to call out Trump for refusing to pay federal workers amid the current government shutdown. This shutdown is officially the longest-running in American history, and Cardi had speak her peace on it.
"Trump is now ordering federal government workers to go back to work without getting paid. I don't wanna hear y'all muthafuckas talking about, 'Oh, Obama shut down the government for 17 days,' yeah bitch, for federal healthcare. So your grandma could check her blood pressure and you bitches could go check your pussies at gynecologists with no muthafuckin' problem. Now, I know a lot of y'all don't care 'cause y'all don't work for the government or y'all don't have a job. But this shit is really fuckin' serious bro. This shit is crazy. Our country is in a hell hole right now. We really need to take this shit serious."
Check out all of Cardi's thoughts on Trump for yourself below.