Blueface Is Working On "Thotiana (Part 2)" According To Producer Scum Beatz
Article By: Ashia Skye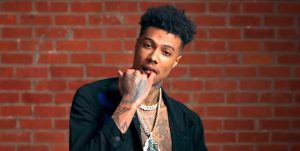 Scum Beatz, the producer who made the beat for Blueface's hit, "Thotiana," has announced something big. During an interview he revealed the sequel to the breakout song is on the way.
 "Me and [Blueface] haven't really sat down and cooked something up together besides the 'Thotiana Part 2' beat," he explains, revealing the presence of a "Thotiana" sequel.
Scum Beatz says the new version will have the same beat as the original, but with a few extra additions. "It's gonna be the same beat, different drum pattern," he reveals. "And I added a couple of other sounds."
Scum Beatz didn't provide a release date, but we know "Thotiana Part 2" is coming soon.