Are Big Sean & Ariana Grande Back Together?
Article By: Ashia Skye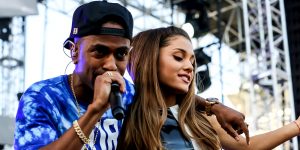 It looks like Big Sean and ex-girlfriend Ariana Grande are rekindling their romance. Ariana Grande was recording in a Los Angeles studio on Wednesday, February 27, when her former boyfriend Big Sean popped up. Afterwards, Ari joined Sean in his car where she showed him her dog and ultimately drove off together.  Could the couple be back together, or just hanging out and catching up? More will be revealed soon.