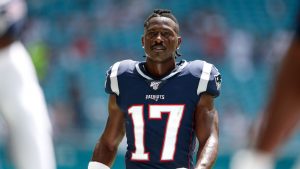 The infamous Antonio Brown literally just posted a rant via social media implying the NFL treats African American players unfairly while advising fantasy football owners to end all hopes that he'll return.
"F**k @nfl I'm going down another path no more making money off my blood and sweat," "No more control of my name and body clear my name I am done with it ! So you fantasy f**ks can let it go.""Imagine conforming to a system giving it a 100 percent to see them treat me like this is unfairly ! Making money off my sweat and blood F**k the @nfl." "I'll never play in that s**t treat black people the worse! Clear my name and go f**k your self."
This is the second time AB has gone off like this in the past 3 months… He was just cut from the Patriots back in September!His comments then:
"Will not be playing in the @NFL anymore."
"These owners can cancel deals do whatever they want at anytime we will see if the @NFLPA hold them accountable sad they can just void guarantees anytime going on 40m 2 months will see if they pay up!"
However, he had a change of heart right after that and had been training hard body to get back in. Looks like he may be gone for good now.
Not to mention, the league is just now hearing his side of the story in his rape case .. He is set to meet with league investigators next week.
AB is being accused of raping his former trainer, Britney Taylor, at his Florida home back in 2018 … and after she filed a lawsuit, the NFL highly scrutinized the issue.
But, Brown is finally ready to have the meeting with league officials … and according to multiple reports, it could take place as soon as next Thursday.
Don't expect it to spell the end of Brown's time as a free agent, though … NFL Network's, Ian Rapoport, says next week's meeting will likely be the first of many in this case.
"The league's investigation into civil allegations of sexual assault & rape is not expected to conclude any time soon," Rapoport said.
Brown continue to deny Taylor's allegations, saying via his lawyer
"Any sexual interaction" between Taylor and Brown "was entirely consensual."