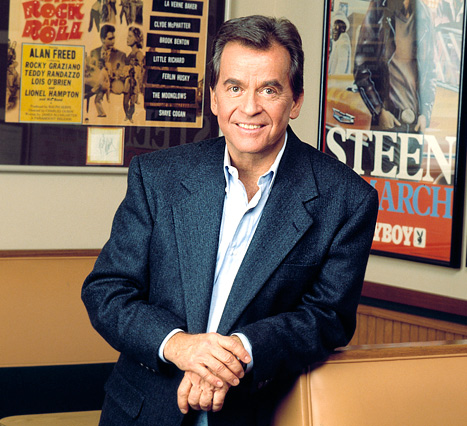 Iconic entertainment host Dick Clark has passed away at the age of 82 from a heart attack. Best known as the host for "American Bandstand" as well as his Times Square appearances on "New Year's Rockin' Eve," Clark is already being fondly remembered by the hip-hop community The death and cause were confirmed by Paul Shefrin, a spokesman for Clark, who revealed that the icon died Wednesday morning (April 18) at Saint John's hospital in Santa Monica, CA. He had been admitted to an outpatient clinic for a procedure a day earlier. Clark had been on the airwaves so long that pioneer is perhaps too small a word for his vast influence. Hosting "Bandstand" in the '50s, Clark helped break rock 'n' roll to a national audience by featuring stars like Elvis Presley and Chuck Berry. He would later do the same thing for rap by interviewing up-and-coming hip-hop stars in the '80s such as LL Cool J and Run-DMC. More recently, Clark used his New Year's Eve celebration to feature artists such as Nicki Minaj and Beyoncé. Immediately following the news, members of the hip-hop community reacted on Twitter:
Questlove
Dick Clark. A Great Philadelphian. Thank You Very Much!
Big Boi
R.I.P Dick Clark instagr.am/p/JkwB6wL2hy/ (picture of Clark and Outkast)
Snoop Dogg
REST IN PEACE to the DICK CLARK!! U were pioneer n a good man!! Thank u sir.
DJ Drama
R.I.P. Dick Clark… A true radio & television innovator
Boys II Men
RIP to another legend! We will miss u Dick Clark! Thank I for EVERYTHING u have done for us all!!!
LA Reid
Dick Clark's profound contributions to music, television and popular culture will reverberate throughout time. R.I.P. Mr. American Bandstand
Monica
Sending out prayers to Mr.Dick Clark's Family… May God keep & console you all???? http://lockerz.com/s/202344251
Jermaine Dupri
I really hate hearing this about Dick Clark,may his soul rest in peace