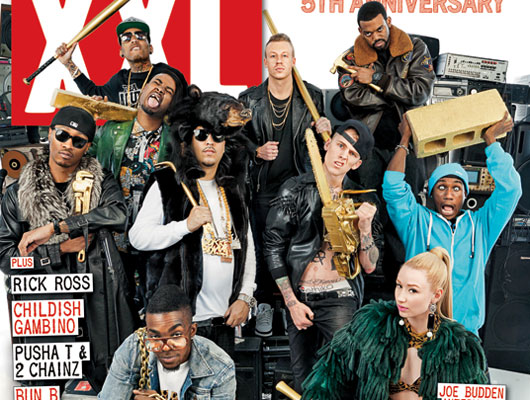 XXL in conjunction with sponsors like Monster Energy Drink and Reebok, held its annual rookie concert, showcasing Machine Gun Kelly, French Montana, Future, Danny Brown, Hopsin, Macklemore, Roscoe Dash, Iggy Azalea, Don Trip and Kid Ink.
XXL Freshmen Concert
from
Team Satten
on
Vimeo
.
Hot 97's Cipha Sounds and Peter Rosenberg, introduced Iggy Azalea, XXL's first-ever female freshman. She started with "My World" from her Ignorant Art mixtape and ended with her latest single "Murda Bizness" sans her Grand Hustle mentor T.I. "I wish Tip was here," Iggy told MTV News on Monday just hours before she hit the stage. "It's so sad that he's not." As the night began to wind down, XXL rolled out their heaviest hitters. Atlanta's Future, with an astronaut mascot in tow, promoted his upcoming April 17 album Pluto by rocking songs like "Tony Montana" and his current single "Same Damn Time." Hometown hero French Montana was next up. Not only did the Coke Boy perform all of his underground favorites like "Choppa, Choppa Down" and "Everything's a Go," French and his team flooded the stage to deliver his biggest hit "Shot Caller." He then brought out Bad Boy labelmate Red Café and the omnipresent DJ Khaled just to spice things up a bit. Before the night's closer Machine Gun Kelly took the stage, the fanatics that lined the first few rows began chants of "MGK" until he bounced from backstage rocking "LTFU (One More Time)" from his Rage Pack mixtape. It was a celebration for the underdogs as Kells saluted his ragers and Lace Up aficionados. Hands waved from side to side when the punk rock-inspired rapper delivered a spirited rendition of "Invincible" and his rambunctious "Chip Off the Block." By the time MGK's set closed with his "Wild Boy" single, the rail-thin Cleveland MC was crowd-surfing and encouraging the crowd to mosh.