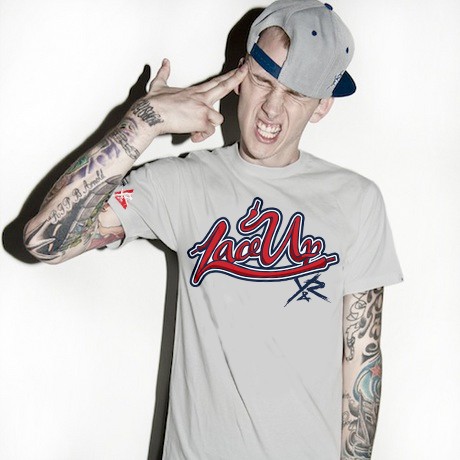 Hip-Hop & R&B has numerous new releases this week and also many changes in the top spots on the charts–see where MGK, Jay-Z, Rihanna & everyone else landed. Cleveland newcomer
Machine Gun Kelly
makes his full length debut at No. 2 with "Lace Up" (51,000). The rapid-fire rapper already visited the top tier earlier this year as his "Half Naked & Almost Famous" EP debuted and peaked at No. 10 in April. The biggest surprise this week may be
Macklemore & Ryan Lewis' "The Heist"
debuts straight in at No. 1 with 78,000 sold according to Nielsen SoundScan. At No. 6,
Jay-Z's "Live in Brooklyn"
digital-exclusive set, commemorating the eighth and final show of his inaugural Barclay's Center run, opens with 12,000 copies. It is his 19th top 10 title, extending his lead for most in the SoundScan era (1991-present). Odd Future's
MellowHype
also posts "Numbers" — 8,000 of them to be exact, to come in at No. 8 this week. As for the rest of the upper reaches of the R&B/Hip-Hop Albums chart,
Miguel's "Kaleidoscope Dream"
falls 1-3 (30,000; down 57%) and the
G.O.O.D. Music's "Cruel Summer"
compilation slips two spots to No. 4 (18,000; down 36%).
2 Chainz's "Based on a T.R.U. Story"
holds steady at No. 5 with 13,000 (down 7%). Over on the R&B/Hip-Hop Songs chart,
Rihanna's "Diamonds"
continues to sparkle in the No. 1 slot for a second week, while
Kanye West's "Clique" (with Jay-Z and Big Sean)
stands firm at No. 2 again this week.
Miguel's "Adorn,"
rises a spot to No. 3 while
Kanye West's "Mercy" (with Big Sean, Pusha T and 2 Chainz)
falls a slot to No. 4.
French Montana's "Pop That"
climbs 6-5,
2 Chainz's "No Lie"
falls 5-6 and
Trey Songz's "2 Reasons"
rises 8-7.
Alicia Keys' "Girl On Fire"
is pushed back a slot (7-8) despite an overall gain in chart points, while Future's "Turn on the Lights" jumps into the top 10 (11-9). Rounding out the upper tier is
2 Chainz's "Birthday Song,"
holding at No. 10.