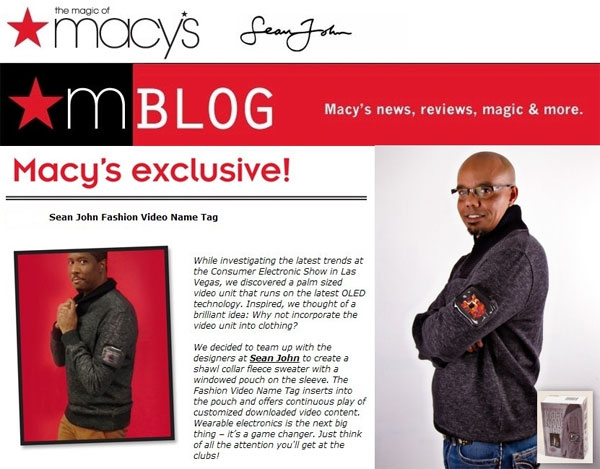 Retail giant Macy's, in collaboration with Diddy Combs and Recom Group, look to capitalize off both industries with the world's first…digital sweater…? Macy's and Sean John's design team created a shawl-collared fleece sweater that was designed to hold Recom's 2.8-inch, high-def screen, which has a 10-hour battery life and 2GB of onboard memory. The video content uploaded is up to the consumer. Conventional thinkers interested in the sweater alone can purchase it for $98, but with the digital add-on it runs for $223.
Recom Group's CEO, Rob Norden, said: Our technology allows us to put video screens just about anywhere. Video screens are an integral part of our lives from our phones to our homes. Clothing was a natural extension. We love what Sean John has created to embrace this new fashion accessory.
Seeing as how the LED screen isn't even in the wearer's line of vision, a representative would have to demonstrate how the sweater could be effectively used in everyday life.
Macy's issued via their blog below:
While investigating the latest trends at the Consumer Electronic Show in Las Vegas, we discovered a palm sized video unit that runs on the latest OLED technology. Inspired, we thought of a brilliant idea: Why not incorporate the video unit into clothing? We decided to team up with the designers at Sean John to create a shawl collar fleece sweater with a windowed pouch on the sleeve. The Fashion Video Name Tag inserts into the pouch and offers continuous play of customized downloaded video content. Wearable electronics is the next big thing – it's a game changer. Just think of all the attention you'll get at the clubs!